M.A. TESOL - What is it?
Fall 2019 Admissions Open
English Department Conference - Spring 2019
Friday, May 10th,  9:30-5:00pm Hum 587
We are excited to announce the second annual conference that will bring together faculty and graduate students in our TESOL, Composition, Linguistics, Literature, and Technical and Professional Writing concentrations to continue a tradition of collaboration and shared learning, as we explore the ways our disciplines overlap and inform our research and pedagogy.
See conference website for more information
If you would like to volunteer for the conf, please sign up here
Learn more - Open House Events - coming soon!
Coordinator
Priyanvada Abeywickrama
Email: abeywick@sfsu.edu
Phone: (415) 338-3095
Building: HUM 269 
Overview
The program in Teaching English to Speakers of Other Languages, founded in 1964, is one of the oldest and largest of its kind. The concentration in Teaching English to Speakers of Other Languages (TESOL) program has a double emphasis:
Theoretical foundations and contemporary research in linguistics, sociolinguistics, second-language acquisition and related fields.
Classroom teaching methodology suitable for adult second-language learners.
Because our alumni go into so many teaching situations, the M.A. TESOL program does not attempt to train for one specific type of locale; instead, we provide general preparation for the teaching of adult learners in a variety of pedagogical settings.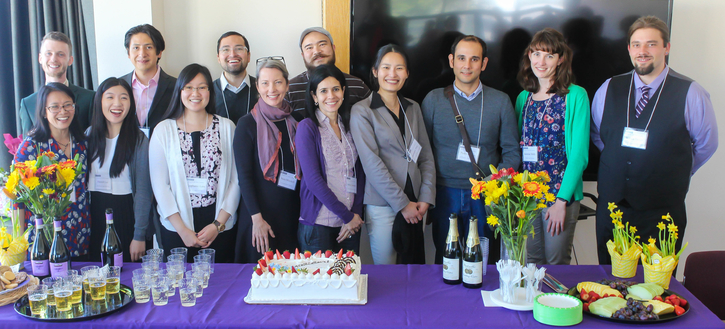 Degree Requirements (30 units)
Core Curriculum
ENG 702: Introduction to Graduate Study of Composition, Linguistics, and TESOL
ENG 707: Topics in Language Analysis (Variable Topics)
ENG 728: Topics in Sociolinguistics (Variable Topics)
ENG 733: Student Teaching Seminar
Concentration Curriculum
ENG 731: Seminar: TESOL Listening and Speaking Skills
ENG 732 Seminar: TESOL Reading and Writing Skills
ENG 734 TESOL Curriculum and Assessment
ENG 826 Second Language Acquisition
Electives (ONE minimum)
ENG 724: Special Topics in TESOL (e.g. Tech, Teach Abroad, Research)
ENG 726: Practicum (if less than 2 yrs teaching experience)
ENG 736: Seminar: Teaching ESL in the Community
ENG 738: Pragmatics and Oral Skills
ENG 832: Seminar in Immigrant Literacies and Community-Based Projects
Culminating Experience:
ENG 895 Field Study or Applied Research Project
     or
ENG 898 Master's Thesis (with consent of advisor)
Courses
Admissions & Prospective Students
Faculty
Resources